151 Views
October 15, 2017
Bitcoin Falls as Bitcoin Gold Fork Gets Underway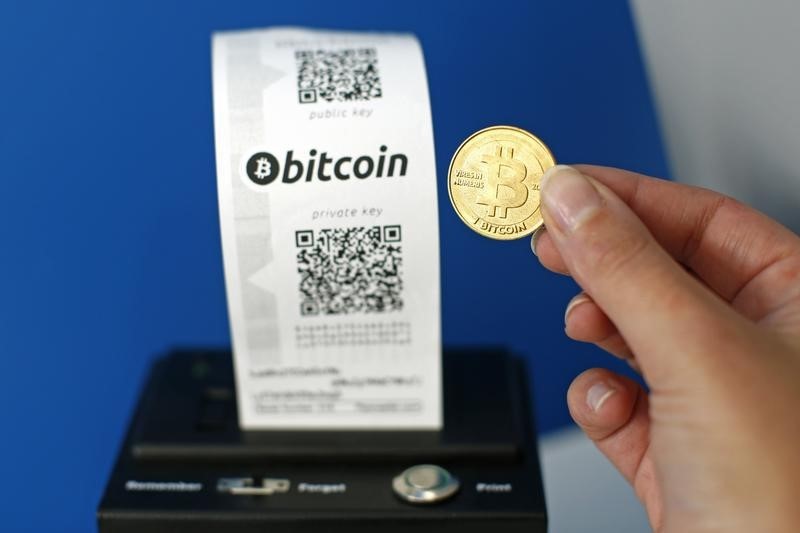 © Reuters.
Investing.com – Bitcoin fell on Tuesday as the latest split in Bitcoin's blockchain got underway creating an offshoot coin called bitcoin gold.
On the U.S.-based Bitfinex exchange, bitcoin fell to $5,704, down $202.9, or 3.60%.
Bitcoin slumped to a five-day low as traders digested yet another fork of its blockchain resulting in the creation of a new cryptocurrency bitcoin gold on Monday.
The fork in Bitcoin comes amid concerns over mining monopolies present in the Bitcoin network. Proponents of bitcoin gold believe, however, that the application-specific integrated circuits (ASIC) resistant cryptocurrency will decentralize the Bitcoin network, lowering the possibility of mining monopolies.
"Bitcoin Gold is the brainchild of Jack Liao and is launching as a hard fork of Bitcoin", said prominent Bitcoin developer Jimmy Song. "The idea [of Bitcoin gold] is to give mining back to the users who can start using CPUs and GPUs to mine."
The newly minted cryptocurrency, however, faces problems amid a lack of support from the community including well-known cryptocurrrency wallets – a software program where cryptocoins are stored.
"At this time, Coinbase cannot support Bitcoin Gold because its developers have not made the code available to the public for review," Coinbase, the largest online wallet for cryptocurrencies noted in a blog post.
The rapid of adoption of application-specific integrated circuits, or ASICs, computer chip cards capable of mining bitcoin 50 times faster than traditional video graphics cards – and are considerably more expensive – has led to concentration of bitcoin miners.
The top six mining pools by global processing power are Chinese, making up more than two-thirds of computational power or hashrate on the bitcoin network, according to blockchain.info.
In other cryptocurrency news, Bitcoin Cash rose 5.51% to $329.70. Bitcoin Cash's market cap of $5.54 billion pales in comparison to bitcoin's $95.20 billion.
Ethereum, the second largest cryptocurrencies by market cap, rose 6.41% to $303.
sponsoredArticle = 'div-gpt-ad-1466339494851-0';
You may be interested
Cryptocurrency News
317 views
Technology News
297 views
No end in sight for tech giant share gains
editor
-
October 27, 2017
© Reuters. Amazon logo is pictured in Mexico City By Sweta Singh and Nivedita Bhattacharjee (Reuters) - How much bigger…
Stock Market News
325 views