173 Views
September 28, 2017
Bitcoin Is Paying Out Dividends Now — Just Not to Everyone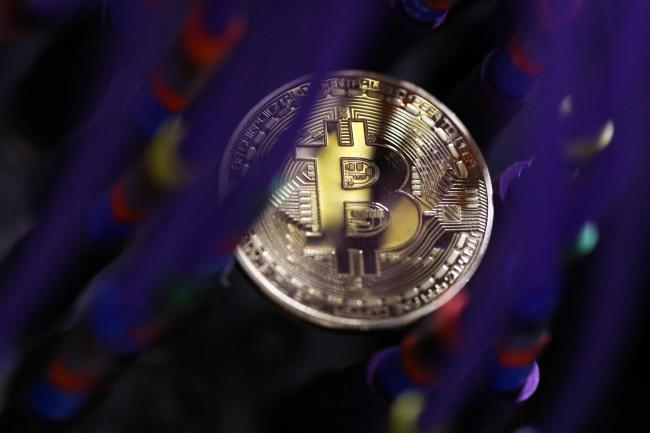 © Bloomberg. A bitcoin sits among coaxial cables inside a communications room at an office in this arranged photograph in London, U.K., on Tuesday, Sept. 5, 2017. Bitcoin steadied after its biggest drop since June as investors and speculators reappraised the outlook for initial coin offerings.
(Bloomberg) — On top of stupendous capital gains, investors in bitcoin are also getting a dividend — if they're lucky.
A split in the blockchain created a new offshoot in the form of bitcoin gold on Tuesday, with bitcoin holders receiving one unit for every bitcoin they own, according to the offshoot's developers. The cryptocurrency fell from a record high after the so-called hard fork, just as stocks typically drop after going ex-dividend. Other major digital currencies including ethereum gained, as investors sold bitcoin and moved the cash to alternatives, saidGavin Yeung, chief executive officer at investment company Cryptomover.
"It's very healthy for the ecosystem to be able to say, I am an investor, I collect my dividend, and then I can do what I want with my investment," Yeung said on Tuesday.
There are, of course, differences. Unlike a stock payout, in order to get the additional bitcoin gold, investors have to be using a wallet or exchange that supports the new asset. Coinbase, one of the largest exchanges, has said it won't.
Additionally, bitcoin gold and an earlier offshoot called bitcoin cash arose from conflicting visions within the decentralized community — as opposed to a conscious decision to boost investor returns. In this sense, such "forks" are more like stock spinoffs.
Read more: Gadfly column on the accelerating speed of bitcoin's rise
Bitcoin gold traded at $97 on the exchange Bitfinex as of 12:03 p.m. in Hong Kong. Bitcoin was down 0.5 percent to $5,568, after sliding as much as 5.9 percent on Tuesday, data compiled by Bloomberg show.
sponsoredArticle = 'div-gpt-ad-1466339494851-0';
You may be interested
Cryptocurrency News
317 views
Technology News
297 views
No end in sight for tech giant share gains
editor
-
October 27, 2017
© Reuters. Amazon logo is pictured in Mexico City By Sweta Singh and Nivedita Bhattacharjee (Reuters) - How much bigger…
Stock Market News
325 views