230 Views
October 26, 2017
Draghi Reveals Upbeat Outlook, Insists on Need for More ECB Asset Purchases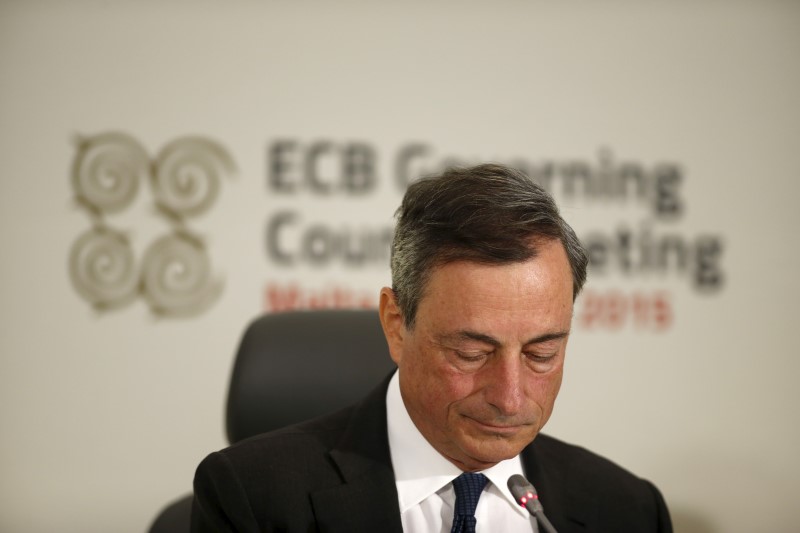 © Reuters. ECB reiterates need for untraditional policy measures for inflation to return to target
Investing.com – After the European Central Bank (ECB) announced its decision to cut its monthly asset purchases (APP) in half, starting in January, and extend them for another 9 months from the initial deadline at the end of this year, the president of the monetary authority, Mario Draghi, gave an upbeat vision of the euro zone economy but insisted that further quantitative easing was needed in order to reach the ECB inflation target.
In the announcement released 45 minutes ahead of Draghi's appearance, the ECB said that it will begin to reduce monthly purchases in January from the current €60 billion ($70.6 billion) to €30 billion ($35.3 billion) and will extend those purchases to "the end of September 2018, or beyond, if necessary".
It added that it will "reinvest the principal payments from maturing securities purchased under the APP for an extended period of time after the end of its net asset purchases, and in any case for as long as necessary."
Furthermore and as expected, the ECB left its benchmark interest rate unchanged at a record-low 0.0%.
The central bank also held its deposit facility rate steady at -0.4% and its marginal lending rate remained at 0.25% as expected.
Draghi reiterated that the ECB expects rates "to remain at their present levels for an extended period of time, and well past the horizon of our net asset purchases."
Draghi further noted that, "if the outlook becomes less favorable, or if financial conditions become inconsistent with further progress towards a sustained adjustment in the path of inflation, we stand ready to increase the APP in terms of size and/or duration."
The ECB chief also explained that the central bank's reinvestments would continue even after the end of its net asset purchases "for as long as necessary".
Decisions meant to return inflation to target
Draghi indicated that the decisions made "were taken to preserve the very favorable financing conditions that are still needed for a sustained return of inflation rates towards levels that are below, but close to, 2%".
He also highlighted that the "recalibration" of the APP reflected a "growing confidence" that the inflation rate would return to target.
All in all, Draghi stated that risks surrounding the growth outlook for the region remained "broadly balanced".
He noted that the strong cyclical momentum could lead to further positive growth surprises.
"On the other hand, downside risks continue to relate primarily to global factors and developments in foreign exchange markets," Draghi explained.
Draghi concluded his prepared speech once again repeating that governments needed to step up the implementation of structural reforms.
Regarding fiscal policies, he noted that all countries could benefit from intensifying efforts towards achieving a more growth-friendly composition of public finances.
The speech caused few waves in euro trading, though the single currency remained under pressure. At 9:29AM ET (13:29GMT), EUR/USD traded at 1.1759 compared to 1.1754 prior to the speech, while EUR/GBP was at 0.8902 from 0.8906 earlier.
Prior to the initial ECB announcement earlier, they had been trading at 1.1807 and 0.8978.
Meanwhile, European stock markets traded higher. The benchmark Euro Stoxx 50 rose 0.75%, France's CAC 40 gained 0.80%, Germany's DAX advanced 0.60%, while London's FTSE 100 traded up 0.43%.
sponsoredArticle = 'div-gpt-ad-1466339494851-0';
You may be interested
Cryptocurrency News
317 views
Technology News
297 views
No end in sight for tech giant share gains
editor
-
October 27, 2017
© Reuters. Amazon logo is pictured in Mexico City By Sweta Singh and Nivedita Bhattacharjee (Reuters) - How much bigger…
Stock Market News
325 views